Turkey Odyssey: Awakened Goddess and Mystical Belly Dance Ritual
FOR THE 2013 Awakeing Aphrodite Goddess Journey in Turkey, please see this link!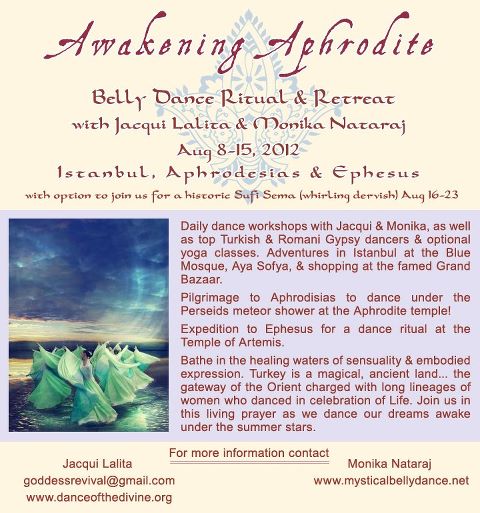 Monika Nataraj & Jacqui Lalita are joining feminine forces to create an inspiring, transformational dance journey through Turkey, August 8 - 15, 2012!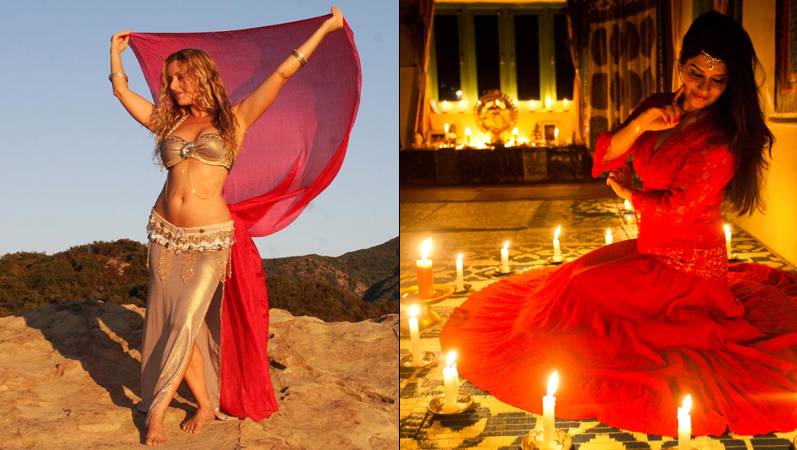 We believe dance is a pathway to the Divine and invite you to join us on the Silk Roads of Turkey as we deepen our dance and connection to our most authentic expression. This retreat will invoke the Goddess archetypes of Aphrodite (Beauty & Sensuality), Artemis (Strength & Protection) and the Virgin Mary (Unconditional Love & Nurturing).

Look forward to daily inspired dance workshops with Jacqui & Monika. Two special classes with Turkish & Romani Gypsy dancers will also be offered & optional yoga classes on most days. Adventures in Istanbul at the Blue Mosque, Aya Sofya, & shopping at the famed Grand Bazaar.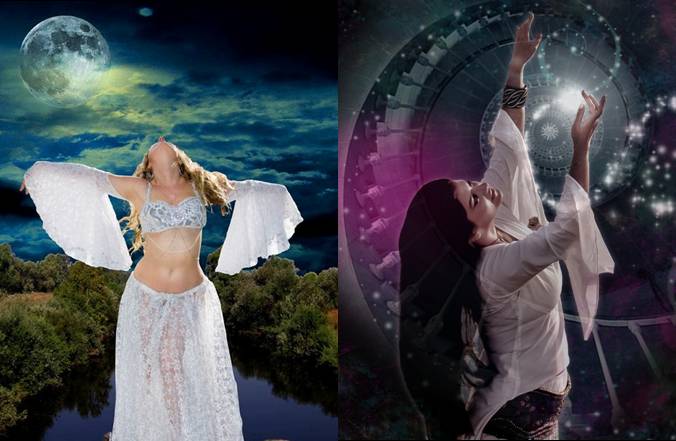 Other incredible highlights include a mystical pilgrimage to Aphrodisias in Anatolia to dance under the Perseids meteor shower at the Aphrodite temple! This is a spectacular opportunity.

Join your sisters on an expedition to Ephesus for a dance ritual at the Temple of Artemis and pay meditative homage to the Virgin Mary at a shrine where it is believed she spent her last days.
Through out our journey we will plan for sacred photo shoots, sharing circles, as well as one-on-one dance mentoring and individual creative empowerment.

There will also be a mermaid ceremony on the Aegean shores as we bathe in the healing waters of sensuality & embodied expression. Turkey is a magical, ancient land ... the gateway of the Orient charged with long lineages of women who danced in celebration of Life. Join us in this living prayer as we dance our dreams awake under the summer stars. Let us fill our cups with ancient body/soul wisdom so that we may return home to fill and inspire others.

Immediately following our week long dance retreat, you are invited to participate in a historic Sufi Sema (whirling and chanting ritual). We will be whirling for a full week and all are welcome, by donation to Tumata. Guided by Sufi Master Oruc Guvenc and the spirit of Rumi. 7 days and 7 nights of spinning into Oneness.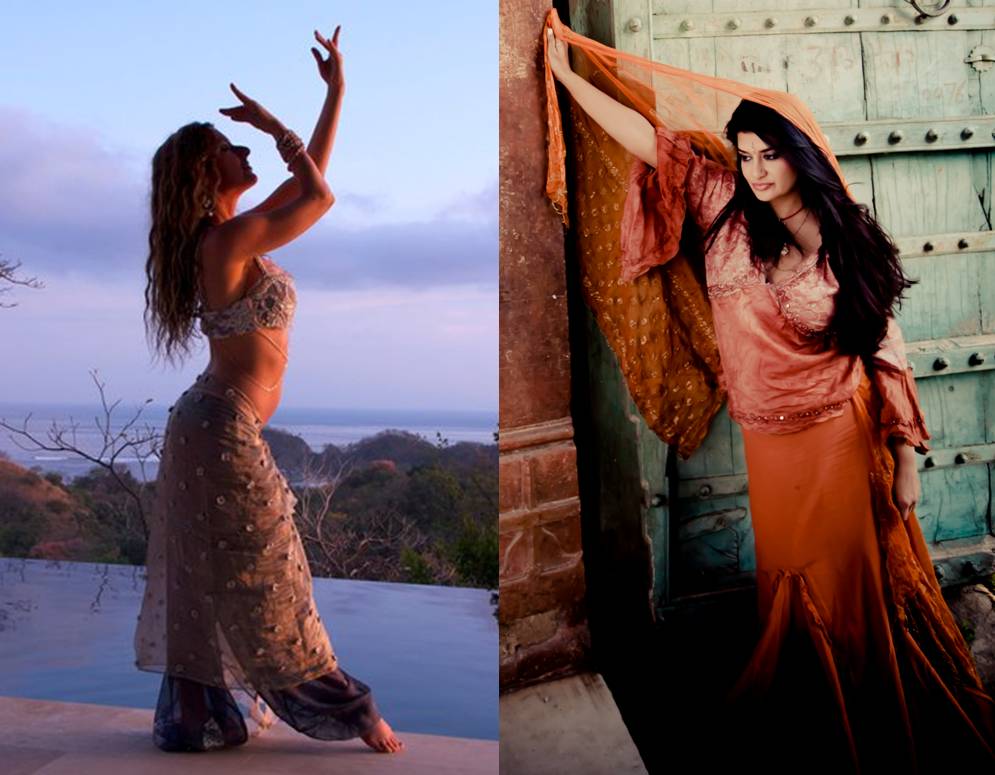 The August 8 - 15, 2012 dance odyssey is $1,600 USD (approximately 1,220 euros, please refer to www.xe.com for current exchange rates). This includes: all daily dance, ritual and yoga sessions with Monika and Jacqui, two master dance classes with guest teachers, all double occupancy accommodation in nicely appointed hotels, all scrumptuous Turkish breakfasts and all admissions and transportation to and from the sacred sites. We have priced this to be as affordable and flexible as possible, catering to an extended range of budgets. Space will be limited and this unique journey will fill up quickly. Pre-booking is required and can be secured with a $400 USD PayPal deposit. Please see the bottom of this page for specific payment details. What is not included: your transportation to and from Istanbul and to and from the airport, meals other than breakfast, your shopping :-) and optiional actitivites such as hamam (Turkish bath) treatments, etc. Also, please note that the internal flight from Istanbul to Izmir on August 11 for our Anatolian portion of the adventure is not included. This is only because women will be booking at different times, and the preferred flight may rise in price or become full, potentially requiring alternative travel at a different time of day or by alternative means. On April 28, the one-way flight from Istanbul to Izmir with Atlas Jet was $48 USD (36 euros), so if you secure the flight early, this will not impact your investment significantly.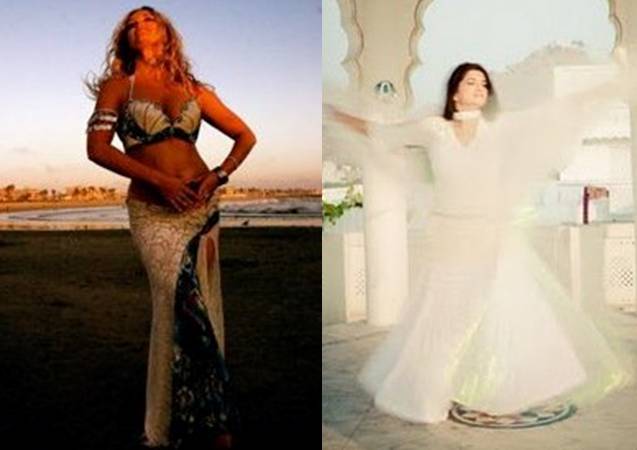 The Awakened Goddess Journey is a deep, extended ceremony into transcendent beauty, movement mysticism, sisterhood, and so many endless things Turkish Delight! All dance levels are warmly embraced. Following the traveling tour, you are also welcome to join the Tumata Sufi Sema from August 16-23. You may particpate in as little or as much of the Sufi whirling and chanting ritual as you chose. This profoundly heart-opening event is by donation and includes the community activities, food, and basic shared accommodation in the Sema room or in your own tent. Affordable private accommodation is also possible. If you plan to participate in the full 7 days/7nights whirling, you should book your flights departing Istanbul no earlier than the mid-afternoon of August 24. For the Awakening Aphrodite tour, please arrive to Istanbul by the afternoon of August 8. We will formally conclude at noon on August 15 at our hotel site near Izmir. Onward travel either within Turkey or specifically back to Istanbul/Yalova for the Sufi Sema can be arranged in advance.
Monika and Jacqui are both passionate "global traveling dancing whirling mystics" with decades of teaching and performing experience. Specific to this journey, Monika has been teaching Mystical Belly Dance in Turkey annually since 2006, and has participated in the Tumata Sufi Sema annually since 2008. Jacqui is a published ecstatic poetess and Aphrodite~mermaid incarnate :-).
For more information, kindly contact:

Monika Nataraj ~ monikadancer@yahoo.com ~ www.mysticalbellydance.net
Jacqui Lalita ~ goddessrevival@gmail.com ~ www.danceofthedivine.org
To secure your place on this magnificent Goddess journey, please submit your $400 USD deposit:
It is recommended that you book your internal flight from Istanbul to Izmir, as mentioned above, as soon as possible. Please click here for the details.
The final payment of $1,200 USD is due on July 20, 2012. We can't wait for this amazing journey to commence!