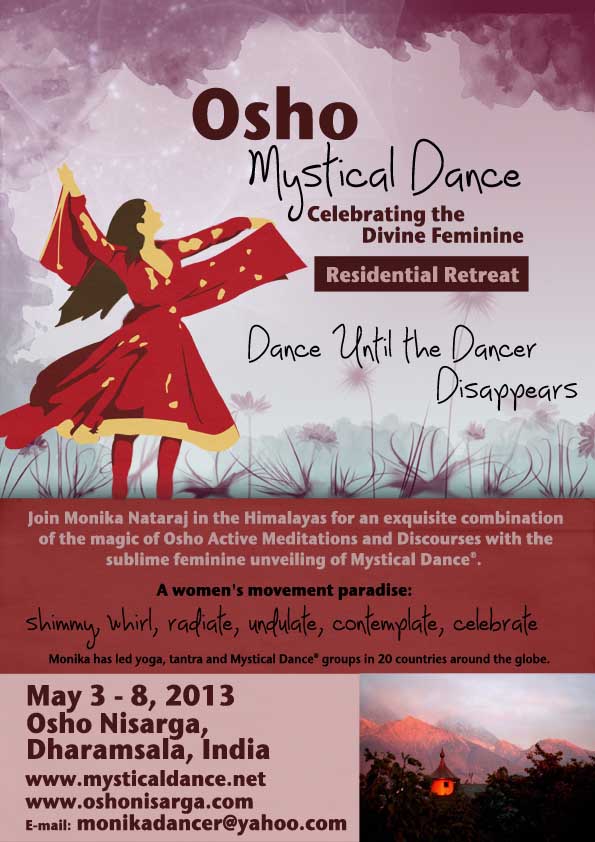 "The dance is really when the dancer is no more." ~ Osho
Join Monika Nataraj in a magical celebration of the Goddess, through the art of Mystical Dance®. Discover new dimensions to your femininity as you express the Joy of Being - embracing a spontaneous state of full awareness and full surrender. Incorporating sacred dance from many traditions and belly dance fusion, this residential workshop also weaves together tantric theory, chakra energy work, ritual and visualization to create a unique and inspiring Shakti experience for all women, regardless of dance level. Underscoring this will be inspirations from Osho on the beauty and power of the Feminine, and the mysteries of dance as a path of realization. We also delve deep into the inner dance through daily active Osho Meditations.

On the final evening, we will tie together our transformations through a mind-blowing and soul-stirring Mystical Dance® ritual offering.

Shake, shimmy, whirl, radiate, contemplate, celebrate ... Dance Your Divine Light.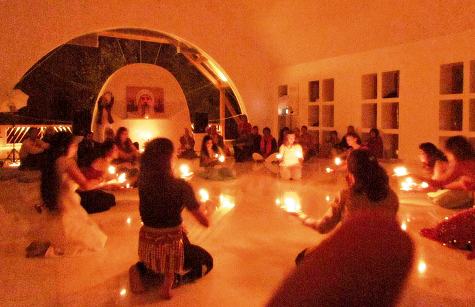 Facilitator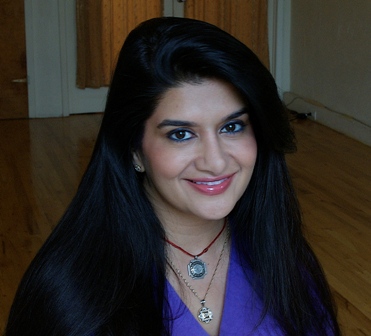 Monika Nataraj has taught Mystical Dance®, Tantra, Yoga and Meditation in 20 countries around the globe, and has catalyzed thousands of women to re-discover the depths of their feminine power and radiance. Since 1999, she has lived full time "on the road" as a true nomadic dancing mystic Shakti adventurer of the soul. She is a senior teacher of kundalini-tantra with Agama Yoga, creatrix of the pioneering 6-week, 200-hour Mystical Dance® Teacher Training Course offered annually in Thailand, co-founder of the Agama Yoga School in Dharamsala/Bhagsu, co-director of the Dharamsala Film Festival, and Core Faculty at the prestigious Omega Institute in NY. Monika is also a devoted performer of sacred dance.

Registration and Information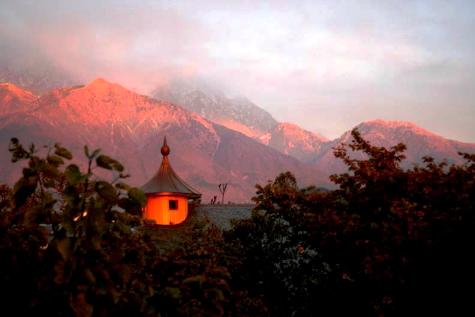 For tuition information and payment, please contact Monika directly by email at monikadancer@yahoo.com. For more information on staying at Osho Nisarga, please contact the meditation center through their website. Osho Nisarga is a stunning residential center nestled in the foothills of the Himalayas and offers an inspiring, nuturing, and world-class setting for this mystical women's gathering. Charming private bungalows and modern shared rooms are available. Three scrumptous vegetarian meals, tea and love are included in the room rates. Osho Nisarga is truly one of the most silently beautiful, pristine and joyful reflections of all that Osho represents. Arrival is on the late afternoon of May 3 and departure is after lunch on May 8. Extending your stay is possible.
What to Bring
Please bring comfortable clothes for our dance sessions, including leggings for wearing under your skirts. Dance props will be provided for borrowing during the sessions (veils, coin belts, and candle trays). On our final offering, we will adapt the beautiful clothes you have into an alluring "costume". For the Osho active meditaions and evening discourses, maroon and white robes are to be worn. You may bring your own, or purchase these at the center for 650 - 900 INR each.
Our days will start early and go into evening, with small breaks for rest, chai and contemplation. The program will be a lovely combination of classical Mystical Dance exercises and Osho active meditaions such as Kundalini, No Dimensions, Nataraj, Dynamic, etc.
Your Body is the Temple and Dance is the Prayer

~~~~~~~~~~~~~~~~~~~~~~~~~~~~~~~
FROM OSHO: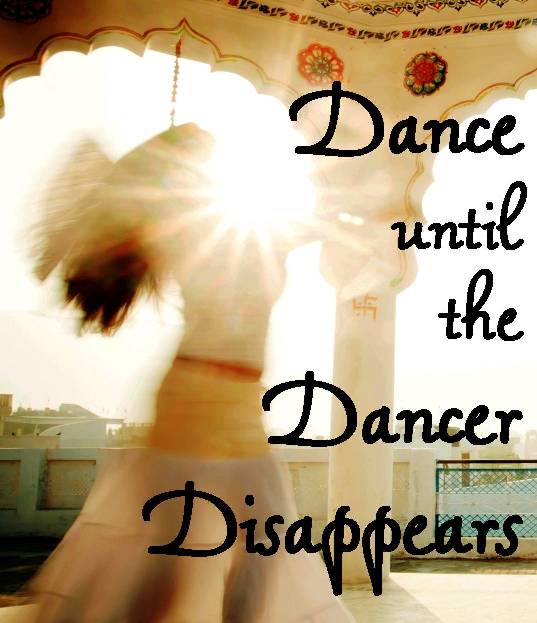 The dance is really when the dancer is no more.
If the dancer is still there then it is not a creative act, then it is at the most a skill. The technician is there but not the dancer – one who knows how to dance is there but not the dancer.

Because the dancer knows nothing; the dancer remains in a state of not knowing. He forgets all his skill, he forgets all the techniques that he has learnt, he forgets himself, he is utterly lost. He is in the hands of God.

He cannot even say 'I am dancing' – he can only say 'God has taken possession of me, I am possessed. God is dancing in me. I am the field where God is dancing, I am the hollow bamboo and God is singing. He has made a flute of me.'